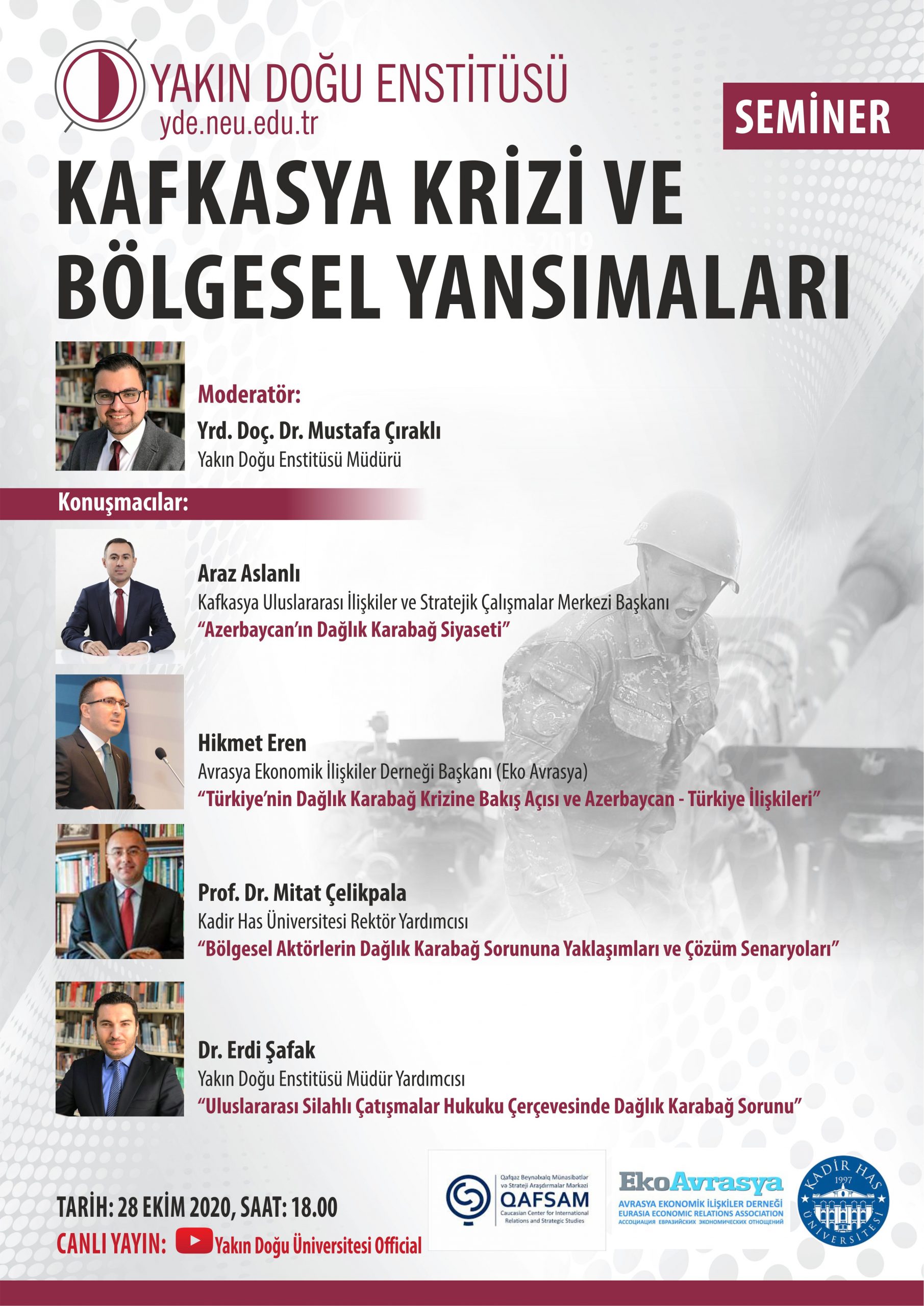 Near East University Near East Institute is starting to hold "Global Agenda" seminars that will focus on international relations and developments in the world agenda. In the seminars to be held online during the 2020-2021 Academic Year Fall semester, senior bureaucrats, diplomats and academicians who are experts in their fields will comment on global issues. Moderated by Near East Institute Director Assist. Prof. Dr. Mustaf Çıraklı, the first of the seminars will be held on Wednesday, October 28, 2020, under the title of "The Caucasus Crisis and Its Regional Reflections".
The Caucasus Crisis and Its Regional Reflections Will Be Discussed
President of the Caucasus Center for International Relations and Strategic Studies (QAFSAM) Araz Aslanlı, President of the Eurasian Economic Relations Association (Eco-Eurasia) Hikmet Eren, Vice-Rector of Kadir Has University Prof. Dr. Mitat Çelikpala and Near East Institute Deputy Director Dr. Erdi Şafak will participate as speakers at the seminar. The seminar can be followed live on the Near East University Youtube channel and the Near East Institute Facebook page from 18:00.
Moderated by Near East Institute Director Assist. Prof. Dr. Mustafa Çıraklı, in the first of the seminars "Global Agenda" to be held, how Azerbaijan and Armenia will change the political, sociological and economic balances in the region will be discussed. In the seminar, presentations will be made under the following titles; "Azerbaijan's Nagorno-Karabakh Politics", "The Perspective of Turkey on the Nagorno-Karabakh crisis and Azerbaijan – Turkey Relations", "Approach and Solution Scenarios on the Nagorno-Karabakh Regional Actors" and "International Armed Conflicts Law of the Nagorno-Karabakh problem in the framework".
Global Developments will be handled with different dimensions…
Later, within the scope of the seminar series titled "Global Agenda" held by the Near East Institute, the topics titled "US Presidential Elections and Turkish-American Relations" and "Eastern Mediterranean Energy Equation in the Light of Current Developments" will be discussed separately. In the seminars, the position of the Turkish Republic of Northern Cyprus (TRNC) will be evaluated in the light of changing and developing global developments.