Yazar: Yrd. Doç. Dr. Assel Tutumlu – 13 Nisan 2019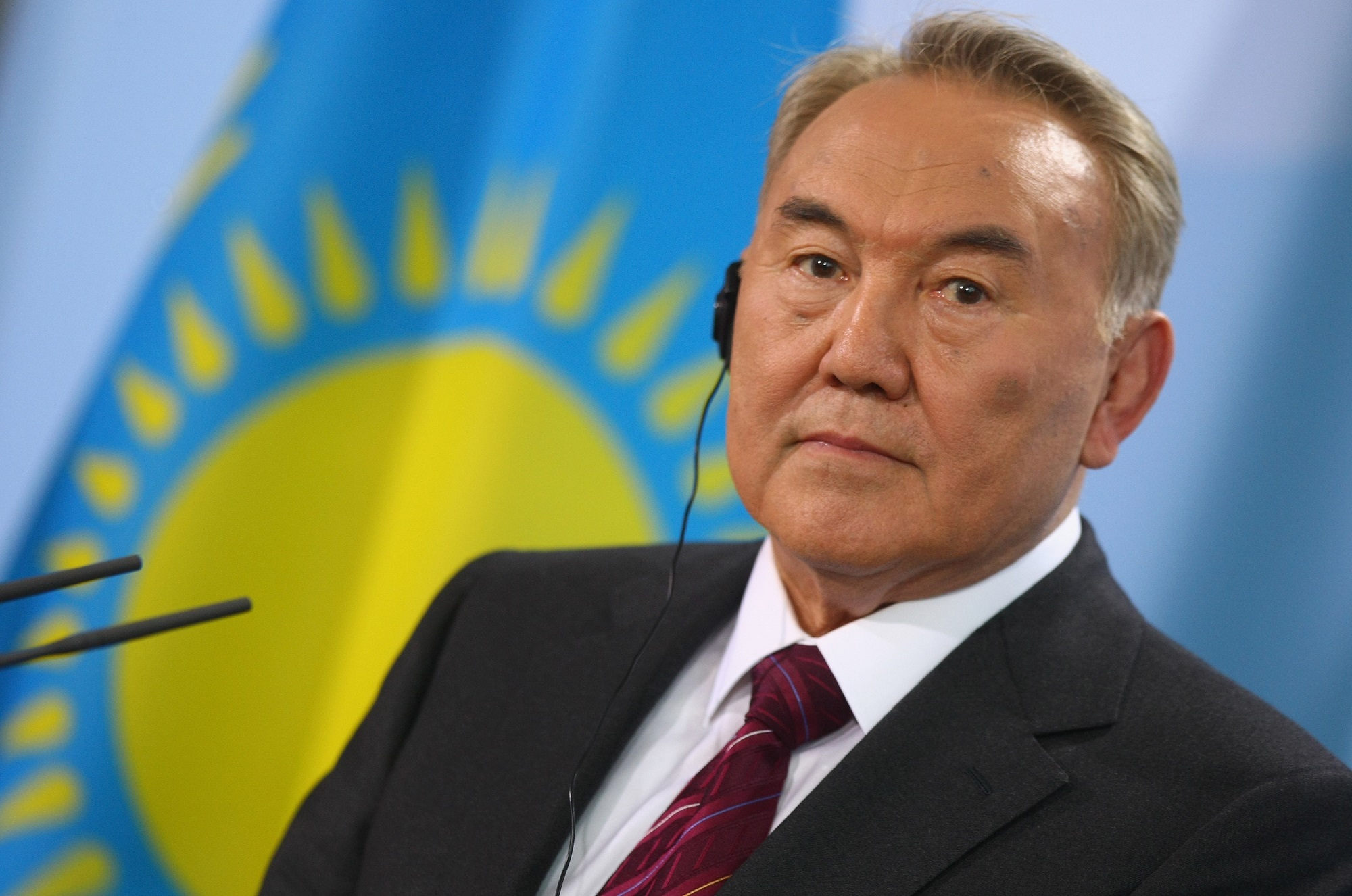 A million-dollar question before President Nazarbayev voluntarily resigned on March 19, 2019 was who would succeed him and how the succession process would take place. Scholars who analyzed similar regimes thought of three possible scenarios judging from the cases with similar long-standing leaders in post-Soviet authoritarian regimes. Violent transition was the least likely scenario, because alternative political opposition was absent, and Kazakhstan had a relatively consolidated circle of elites, whose interests Nazarbayev balanced well. Peaceful transition to an offspring was also off-limits since a female presidential candidate will not do well in contemporary Kazakhstan. Another peaceful option offered a case of power transition after the leader's death: in Turkmenistan, a presidential doctor succeeded the president, and in Uzbekistan, an inter-elite rivalry produced Mirziyoyev who began to insert his loyal people into positions of power. Neither of these options provided a viable solution. A peaceful transition while the President is alive was simply more attractive, but the precedent for such occurrence was missing. Several questions thus appeared: Why now? Who is next? And what is after?
To answer the first question, scholars began to share several speculative ideas. Experts thought of the timing: one day before a long national holiday of Spring, Nauryz, as a possibility for people to get used to the idea of Kazakhstan without Nazarbayev. However, this explanation does not answer why on this date and not on another public holiday, say May? On the other hand, some experts linked his recent visit to the United Arab Emirates as a sign of deteriorating health since Nazarbayev frequently went there for treatment. The most viable explanation, however, comes from those who look at the neighboring case, Uzbekistan and draw the lessons.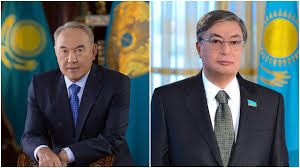 In Uzbekistan, the oldest daughter of Islam Karimov who died two years ago, in September 2016, was back in prison after violating house arrest rules. She was stripped from all the wealth and accused of embezzling money, taking bribes and extorting rents from legitimate businesses. With the change of leadership, former actors who could have guaranteed her protection were no longer capable of providing such services. It is possible to think that Nazarbayev, after watching these events began to think how to create a system of power transition without losing his political control. As a result, he engaged in several political reforms to ensure safe exit. First, through the constitutional reform he strengthened the power of the Security Council, which he can preside for life. He is also a member of the Constitutional Council. Second, he ensured that personally loyal people who do not nurture presidential ambition take strategic spots in the parliament. The Constitution prescribes that the Speaker of the Parliament takes over presidential administration until the next elections. So Kassym-ZhomartTokayev took over vacating the spot in favor of Nazarbayev'soldest daughter who began to chair the Senate, thus guaranteeing a safe grip on power in case Tokayev does something wrong. Uzbek scenario also prompted him to take care of the intelligence services by appointing personal confidant and a former prime minister Karim Massimov to head the agency. Nazarbayev's last decree as a president promoted Massimov to Major General.
With the system in place, the next question is about succession. According to the Constitution, Tokayev cannot run for president because he needs to continuously reside in Kazakhstan for 15 years. However, he was heading the United Nations office in Geneva between 2011-2013. In addition, as an unelected President Tokayev cannot initiate some strategic reforms, such as amending the Constitution to allow himself to run unless Constitutional Council technically headed by Nazarbayev agrees to such provisions.
According to STRATFOR, potential president may come from four possible groups: family, old guard, regional groups, foreigners.Nazarbayev clearly stated to Bloomberg that he does not foresee a transfer to power to his children. Among the family members, sons-in-law, grand-children, and nephews are in the list of possible candidates, but each of them lacks a clean image or statute of a President. In addition, previous experiences showed that when sons-in-law reach power, they rarely become controllable. For example, the first husband of the oldest daughter Rakhat Aliyev, a former surgeon became the Chairman of the Intelligence services and attempted to control and dispose his father-in-law, for which he was expelled from the country and died mysteriously in an Austrian prison. Another son-in-law of his second out of the three daughters did not bear threatening ambitions and was capable of balancing powerful interests inside the country, but he could not keep his image clean fathering two children with a British celebrity Goga Ashkenazi.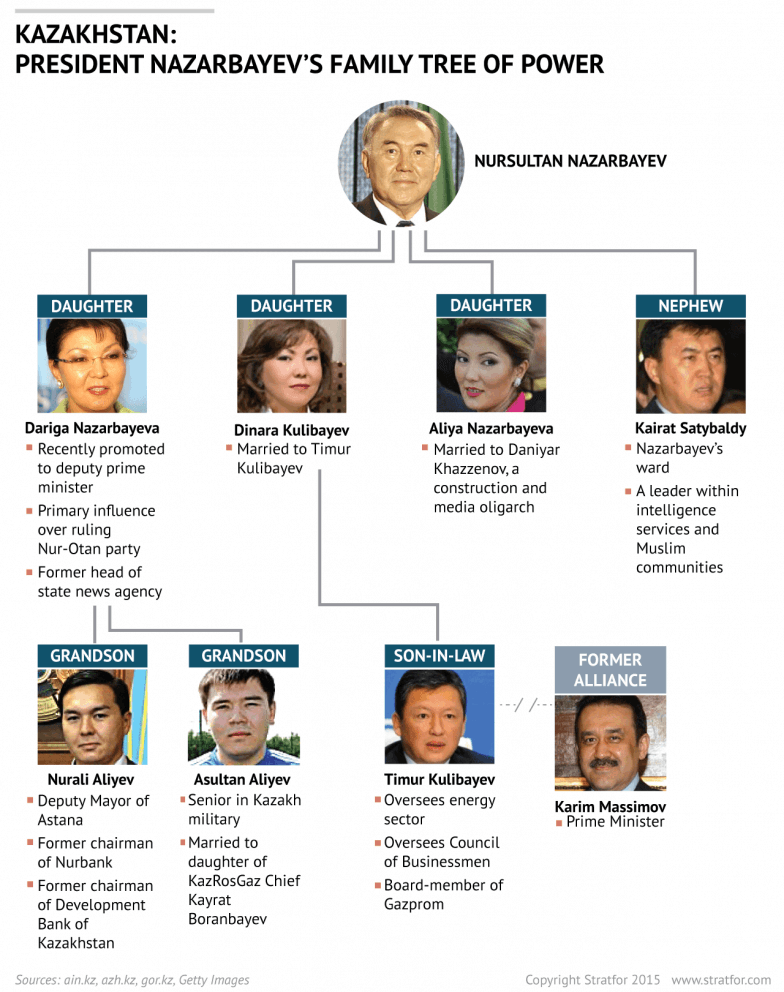 Among the old guard, Imomali Tasmagambetov could have been the strongest candidate, but since his appointment as an Ambassador to Russia he is not eligible to run the 2020 elections. Regional leaders, such as 'akims' or governors may have a potential to reach national audience and recognition,but they may not have enough of elite backing. For example, Umirzak Shukeev, a prominent Deputy Prime Minister and a head of the Sovereign Wealth Fund Samruk-Kazyna could have been a strong candidate, but he crossed too many people in cleaning up the Fund and streamlining its functions. For example, he privatized more than 120 out of 200 enterprises opened under the auspices of Samruk-Kazyna that were not directly related to its functions, such as spas, saunas and recreation facilities. International experts are also stressing the fact that a new successor must be loyal to Russia and China in order to remain in power. These views are important, but they do not necessarily determine the choice of the domestic candidate. Any president will have to pay close attention to two big neighbors regardless of their affiliation. As a result, it is hard to predict who will be the next successor in the upcoming 2019 elections.
What is known though is the answer to the third question: what is next? Stability and continuity remain the mottos of the new President, Kassym-Zhomart Tokayev, but this may not last long. Although his first foreign visit was to Russia, which was a natural destination for a career diplomat and his management is in line with the directives of the President, being a non-elected president his powers are circumscribed. So, the recent call for a snap presidential election in June 2019 is an understandable attempt to gain more political ground. The question is whether Tokayev is eligible to run. Nazarbayev's oldest daughter has already announced that she is not willing to run. Whoever takes power will determine the next trajectory of the country.